Create a landing page: Tips for easy and effective landing pages
Separate landing pages for campaigns are a proven way to increase conversion.
Landing pages have the ability to give full attention to one message, without distractions.
For successful landing pages, it is important that the collected data is automatically processed and deduplicated. 
What is a landing page?
A landing page is a web page that is separate from the regular website navigation, with the focus on one objective and one message. Landing pages are used for both B2B and B2C purposes.
A landing page is an excellent way to increase the results of campaigns. Because of the focus on one message, it is more likely that this message gets across. In addition, you have more freedom in terms of design and a landing page gives you the possibility to try something new.
How do you create a landing page?
There are several ways to create a landing page:
Create landing page in the current website
It is possible to create a landing page within the CMS (Content Management System) of your website. This is the fastest and cheapest way, you already have the CMS at your disposal and know how it works.
The disadvantage of a landing page within a CMS is that you are bound to the format of your website. If you want to use a different format (a different template), this often requires support from a supplier.
Of course, you want to test whether a landing page works and which message gets the most response. If you create a landing page within the website, additional software is often required to perform these tests.
A landing page often includes a registration form, for example for a download or newsletter subscription. It is important that this form is linked to the marketing database and the marketing automation software. This ensures that you have a quality database in one place, instead of separate files.
Create landing page in a marketing automation system
Many marketing automation solutions also have possibilities for creating landing pages. On these pages you can place a form and the entered data will be added directly to the marketing automation software.
If you have marketing automation software at your disposal, this is a quick way to create landing pages. In some cases, there are extra costs involved, which is important to take into account. Creating landing pages in marketing automation software is not always easy, you may need support from a supplier.
The major advantage of landing pages in marketing automation software is that the data is added directly to the database. However, for a complete overview, this database must also be linked to other systems, such as CRM or e-commerce.
Specialized marketing tools for landing pages
It is also possible to create landing pages in specialized solutions, such as Wix or Unbounce. At Basedriver, we use unbounce for landing pages. We believe that Unbounce offers a good combination of user-friendliness, freedom and support.
In addition, it is possible to automatically import data from in a form in Unbounce into Basedriver. As a result, we have one deduplicated and clean marketing database in Basedriver.
Specialized solutions, such as Unbounce, offer the possibility to perform A/B tests, create AMP-pages, but also integrations with the website such as an exit popup or sticky bar. Our experience is that these possibilities are richer than those of landing pages in marketing automation software or websites, which is why we have chosen this solution. Of course there are extra costs associated with the use of this software.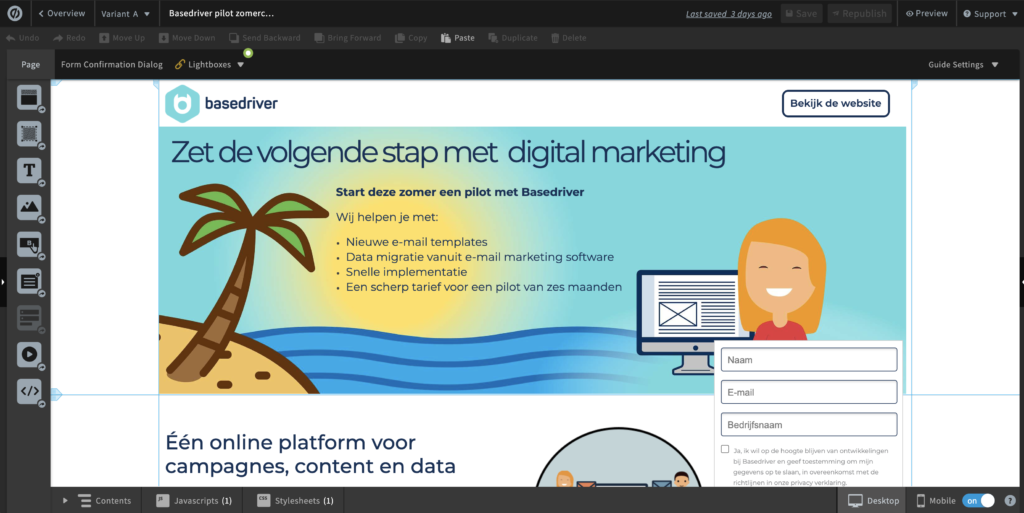 Pay attention to this when making a landing page
If you create a landing page, it is important to pay attention to the following:
Formulate one objective and one message
The strength of a landing page is that all attention is focused on one message in favor of one objective. The sharper you formulate that message and objective, the more powerful the landing page.
The temptation is to communicatie as many different things as possible or to place links to other interesting content. Do not do this! By keeping the message unambiguous you increase the chance of success.
The consequence of one objective is that there is only one call-to-action on the page, which has to be clearly visible. So don't be tempted to use different forms and buttons.
Remove all unnecessary information and links
If you have a clear message and objective, it is important to remove all information that does not contribute to this. The top navigation of the website, for example, can be replaced by one link. If you normally have an exit popup or other form, then turn it off for these pages.
Tell your message from different perspectives
Adding information is the next step. The message on a landing page can be told from different perspectives. Commonly used perspectives are:
The benefits of the product for users
The temporary nature of the offer
The experiences of others
The features of the product
We see many landing pages where 75% of the attention is paid to features and 25% to the other parts. We ourselves pay little attention to the features. When people respond to the offer, they will still receive an email with features.
In the image, you can find a landing page for Basedriver, with various components. The main message is that we can help marketers take their digital marketing activities to the next level in an accessible way. The most important objective is registration for more information. This message and objective appear on the landing page in various ways.
The registration form is always visible and is directly linked to a campaign in Basedriver. Someone who registers will automatically receive an e-mail with more information within a few minutes.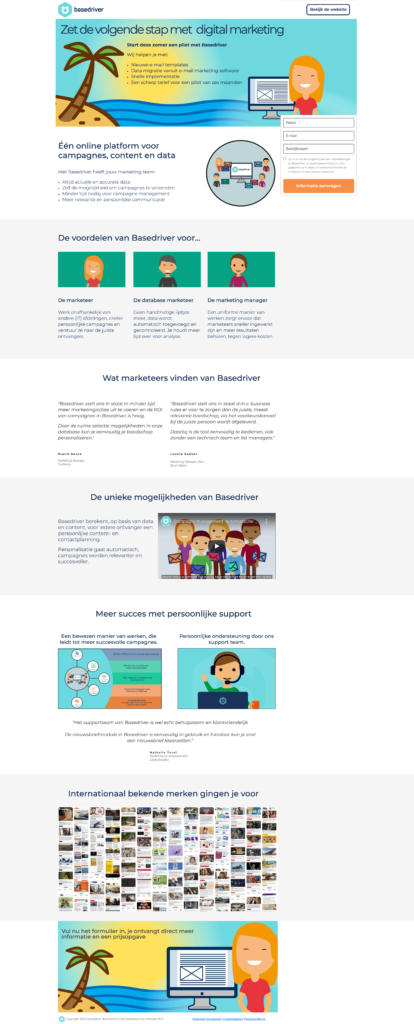 Keep in mind that landing pages are temporary
Landing pages are almost always temporary pages and linked to campaigns. It is important to take this into account, because you don't want people to end up on an old page or a broken link. It is therefore wise to consider the following:
Make sure landing pages are not indexed
Do not post too many links from the website to the landing page
If you delete a landing page, always redirect to another page, such as the homepage of your website.
Keep the form short and concise
The longer the response form, the more likely people are to drop out. Of course, you want to know everything about a potential customer, but it is wiser to start with a short form and later, through campaigns, extend the data.
However, it is important that you immediately request the correct permission (opt-in) in the form. This ensures that you can continue to approach customers and comply with the GDPR.
Test where possible, but be aware of the  limitations
We are a fan of testing. It is the only way to be sure which message, call to action or image really contributes to the conversion. Nowadays testing is inextricably linked to marketing.
In order to perform a good test, there must be a measurable and significant difference between the two versions. This means that the versions must be sufficiently different from each other and there must be enough traffic and conversion on the page.
Think of a mobile or responsive landing page!
Probably about half of your online traffic comes from mobile devices. This can be much higher for landing pages. E-mail and social media are the main traffic sources for our landing pages. The mobile part is much higher. That is why it is essential that you ensure you have a good mobile version.
Digital marketing with Basedriver
Basedriver connects content, data and campaigns in one online platform for marketing teams. With Basedriver, marketing teams can automatically plan campaigns, view histories and create personalized versions. This is all based on reliable and up-to-date marketing data from various source systems.
With Basedriver we connect with more than 2000 different websites and apps. If you are going to create landing pages from your CMS or within an external tool, you can automatically load the data from the form into Basedriver so you can use it in campaigns.
This post is also available in:

Nederlands (Dutch)